I don't really do New Year's resolutions but I am making myself do some Pinterest resolutions this year. Yes, Pinterest resolutions. I'm sure most of you can relate. I pin all sorts of things I will never have or are not feasible with our budget, house or lifestyle BUT for every unattainable pin, there are plenty that are completely feasible if I just sit down and try do them. 
So these are my Pinterest resolutions for 2012. Let's put it out there now. I will tackle these 12 things inspired by a pin before the end of the year. In no particular order…
Make freezer paper stencils.
Who out there has a growing list of pins that need to get done? Let's start this year off right. What are your Pinterest resolutions?? Share them in the comments so we can see!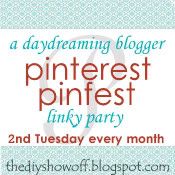 Thanks for following Directions Not Included!